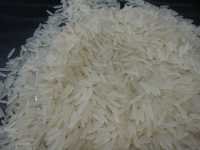 DP Sella Basmati Rice
Product Description
Features:
Strong aroma
Rich taste
Purity
Long shelf life
White sella Basmati Rice
An aromatic, long-grain, slender, non-glutinous rice from India When cooked it swells only lengthwise, resulting in long slender grains that are very dry, light and separate not sticky. Basmati has been cultivated for centuries at the foot of the Himalayan mountain ranges. The rice is long-grain and scented; literally translated from Hindi, it means squeen of scents or pearl of scents.For centuries, it has been exported to the Arab countries, where many traditional rice dishes are cooked with basmati rice.
We provide high quality Basmati Rice that is widely used in all households for its rich taste and quality. Basmati Rice is processed using latest technology as per industrial standards. Our Basmati Rice undergoes various quality checks before being supplied. Known for its rich aroma, our Basmati Rice is demanded widely in the market.
Specialties
Rich in nutrients
No foreign matter
Tempting taste
Long and elegantly thin
Delectable tastes
Fragrant aroma
Specifications
Moisture : 12% to 14%
Avg. length: 7.70mm before cooking
Available as steam, Parboiled and Golden
Broken : 1% Max.
Damage and discolored : 0.5%
Black grains : Nil
Foreign matter : Nil
Packing : As per buyer's requirement
Contact Us
26/268, Kissan Compound, Sultanganj, Agra, Uttar Pradesh, 282004, India
Phone :+918068214030